IC should play its role and help restore the fundamental rights of Kashmiris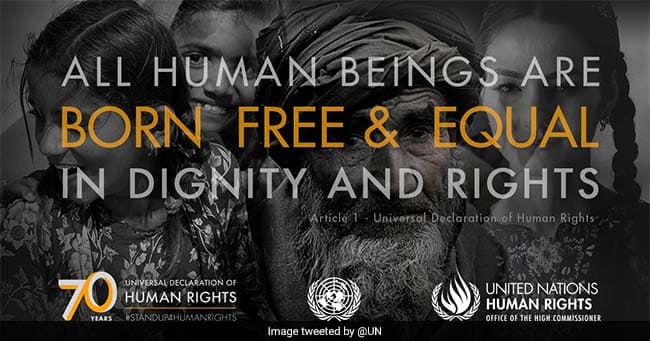 The Chairman of the Kashmir Council-EU, Mr Ali Raza Syed has called on the International Community to play its role and help restore the fundamental rights of the Kashmiri people.
In a statement on the International Human Rights Day falling on 10th December, Ali Raza Syed said that, on this day, the world should not neglect the oppressed people of Kashmir, who have been stripped of their basic civil rights under a strict curfew in the last 128 days. The Chairman urged the International Community, particularly the UN and the EU to put pressure on India to put an end to the siege in Indian-Administered Kashmir and restore the fundamental rights of the people. The International Human Rights Day is being marked on 10 December, each year. It commemorates the day on which the United Nations General Assembly ratified the Universal Declaration of Human Rights in 1948.
The Chairman stressed that the free nations of the world should not ignore the people of Kashmir who are stripped of their right to self-determination and who have long been living under severe oppression. Ali Raza Syed said "we would like to remind the world that how powerless are the Kashmiri people. We must continue our work and raise awareness of the situation on the ground until the Kashmiri people have the right to self-determination".
He added that, for the past seven decades, Kashmiris has been fighting for their right to self-determination, but when India scrapped the special status of Kashmir and installed a siege in the disputed territory, people's hardships have increased.The curfew imposed intensified with the disconnection of all means of communication including phone, internet, transportation services and other services which have disrupted many aspects of daily life. The disputed territory has already witnessed the atrocities committed by the Indian forces. For decades, the people have been denied the most fundamental rights, including the freedom of speech and expression by the authorities. Ali Raza Syed stressed that peace and prosperity in South Asia region cannot be accomplished without a solution to the Kashmir issue.
As far as the Pak-India discusions on Kashmir are concerned, the Chairman said that, so far, there have been no positive outcomes. There is a need for an international mediation, which include the people of Kashmir at the negotiating table. The Chairman urged the international powers, in particular, the US and the EU, to keep in mind the rights of the people of Kashmir in their relations with India and to impose sanctions for severe violations of human rights in Kashmir.